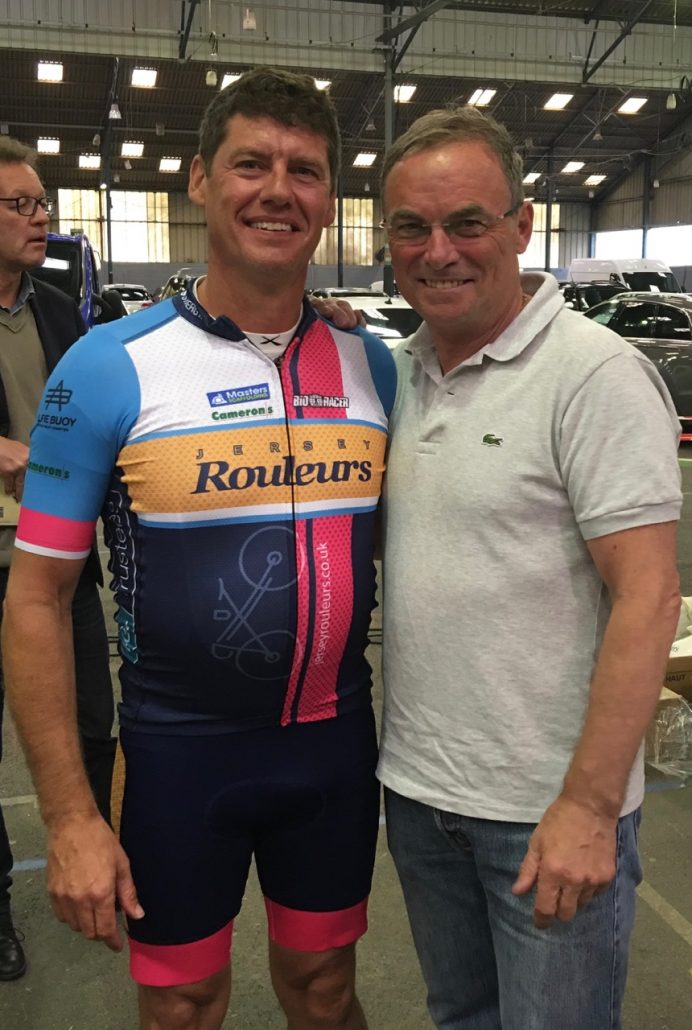 'Don't worry, I've filled it with oil so the light shouldn't come on again' he said as I picked up the transporter on Tuesday evening.  This was the start of the Bernard Hinault weekend.  Bikes & kit bags started arriving during Wednesday and the excitement was tangible as rider after rider left a bike or a bag in my living room.  Thursday was a day for assembling spares and tools, filling cars & the van with diesel (these Frenchies have been on strike again and there is supposedly a fuel shortage), cleaning and preparing my own bike and making sure I had my passport and a few euros in my bag.  The wagon was packed, we managed to get seven bikes in there, and a relatively early night as I was sending Tracy to pick up Tutu at some unearthly hour on Friday morning.
Friday morning and another two bikes on the back of the wagon and seven on the roof of the recently graphic'd skoda.  Signtech did a fantastic job both with the design and execution of the stickering, that car really turns heads. We are heading to the port.  Collecting Malcolm & the monkey en-route, we arrive as scheduled at 07:30.  Unfortunately some of the guys hadn't read the e-mail and were there just after seven, however, not being the last they avoided the expense of getting the first round of coffee (David).   The Condor check in staff did a great job as 19 of us across six different booking references scattered over four cars all managed to get on board without any fuss.  Next stop France.
Flat seas, a quick exit and our 'Convoy' was in a soggy St Brieuc by lunchtime.  Almost checking-in with Patrice & Celine at the Ibis, we wandered to the local Boulangerie in search of lunch.  The french may not know how to transport diesel across their country, but they know how to make bread and some seriously fancy looking cakes.  Now fed, we head back to 'check in' before a quick trip to the Race HQ to sign on.   The afternoon ride out was scheduled for an hour but had to be cut short due to a mechanical issue with a pedal (next time I offer Lindsay…), this lead to a rapid turn around at the hotel and we made our way to Stella Marais for a fantastic evening of Italian cuisine and fine wine. The talk was all about the last hill. We had attempted to ride to the top of it during the afternoon but for some reason had missed it in both the outbound and inbound legs.  How steep was it?  What does it compare to? How many minutes to climb it?   After dinner we had a 'Team Talk' at the hotel before some of the guys went in search of a bar with the 'Euro' football being shown.
Race day.  Breakfast at 06:00 for the last bit of carb loading.  Nervous anticipation filled the breakfast room.  We leave at 08:00 and we are in the start pen at 08:20.  Three Rouleurs are on the front row with the other Jersey riders from CASP.  Further back a couple of 'our' riders from EFR loiter with the massed ranks of the 'fragrant' frenchies, further back again the blue and pink of Team Rouleur is clear to see.   Cinq, Quatre, Trois, Deux, Une, and the flag drops.  We are away, the pace is immediately high as we struggle to keep the front position.  The first few kilometers rattle by as we avoid street furniture and climb small hills to get out of St Brieuc. Over the timing mat and it is 'Race on', but we are already at race pace.!!  Communication is easy as our kit is very easy to spot in a pack.  'Remember to eat', my own advice from the team talk last night comes back into my head as I look at the clock on my computer and realise that we are already 20 minutes in.  40 minutes later and the front group hits a hill that proves to be the decider, for us at least.  James & I are caught the wrong side of some tiring Frenchies as the leaders (only 20 or so riders ahead) kick over the brow and make their escape.  Try as we might, there is no way we are going to get back to them.  The group we are with are very happy to leave the three Jersey Rouleurs do all the work at the head of the group and so, with some significant help from a CASP team member we worked hard for the remaining 80km.  The last hill, when it came, was not as bad as I remembered it from last year however it wasn't surfaced properly and riding uphill on gravel isn't too much fun, but it is the same for everyone I suppose.  Home in 3hrs 25.  We were 15 mins behind the winner (a short Jersey bloke called Crispin), about 5 ahead of Pepijn, 10 to Craig & Carsten and then they all started to rattle home.  Everyone was accounted for and the next call was the race lunch.  Garlic Ham with garlic pate with garlic rice, (mmmmm I must remember to brush my teeth before I leave the hotel tonight) and then we are asked to have our photo taken with The Badger himself, Bernard Hinault.  We must have smelt something rotten as 22 sweaty riders who have just eaten a load of Garlic crowded around the five times TDF winner.   Marc Gomez (another local famous french rider) also got in on the act and he too had a photo with us.  The photo opportunity of the day came as the awards & prizes were being given out as Crispin had already left to go to the ferry so we sent Geoff to the stage to collect his prize in his absence.  Check out the gallery.  Kamila was sent up to pick up Kimberly's prizes as she too had 'done one' to get the Saturday evening ferry.  Festivities over, we have two hours before we leave for dinner.
Restaurant take over.  A small Bretange restaurant crammed 21 of us into half of its space so we could all eat together.  Le Chaudron did the most amazing job to produce the fresh food it did. It was easier to say 'who doesn't want Steak' rather than 'what do you want?'  The wine flowed, the food was fantastic and the air was filled with chatter about the day's exploits.  David had collided with the ground and Kamila had lost her saddlebag, both very early on, the hill wasn't so bad after all, who said the feed station was at 60km?   Malc had smile on his face when three balls of ice-cream arrived with him before anyone else had even seen their desert (monkey situation averted). The bill settled and en-route to the hotel we met with more Jersey riders.  Liam had obviously had a good evening and now dragged a few with him to finish the evening in the football bar.  Good night.
Sunday.  Some of the guys decide to go 'chasing Bougie' as they make their own way to Dinan for lunch.  We pump up the tyre on the wagon (we noticed yesterday that it was a bit flat and discovered a screw embedded in it) and head steadily along the motorway to the agreed meeting point. Dinan, a beautiful medieval town in france,  for a lunchtime crepe and a coffee before the trip back to St Malo.  Only Martin decides to continue to ride all the way back, and he had raced 195km the day before (he is hardcore).  Back to the ferry and back to Jersey to tell wives and loved ones of the exploits and adventures of the 'Rouleurs on Tour'.
A quick thank you to everyone who came on this trip and made it the occasion it was.  Thanks to the Drivers, Des, Mark, Kate, Pete, thanks to Patrice & Celine at the ibis, the staff at Stella Marais & Le Chaudron.  This was a blast.  Lets do it again next year.
https://www.jerseyrouleurs.co.uk/wp-content/uploads/2016/06/IMG_0672-1-e1466681494352.jpeg
710
860
Ian Williams
https://www.jerseyrouleurs.co.uk/wp-content/uploads/2016/04/JR-Blue-300x101.png
Ian Williams
2016-06-22 23:48:48
2016-06-29 15:49:29
The Bernard Hinault Weekend.